Buy quinoa cake powder 200 grams with high quality and reasonable price at Hayva healthy food products store with timely home delivery.
Quinoa Cake Flour
This cake powder is made from quinoa and wheat flour, brown sugar, cocoa powder, vanilla powder and baking powder. This cake powder has a cocoa flavor, which is very popular. If you like to eat healthy, delicious and nutritious cake, this cake powder is a great option for you.
Preparation time: 10 minutes
Cooking time: 35-40 minutes
Oven temperature: 165 degrees Celsius
Suggestion to make it tastier: You can use mashed banana or apple in the liquid mixture of the cake.
How to cook Quinoa Cake
First, turn on the oven and let it heat up completely for 15 minutes. Mix well 2 eggs, 110 grams of milk and 90 grams of oil. Then combine the cake powder with the wet ingredients (milk, oil, eggs) and mix a little until it becomes uniform. Bake in a small mold (about 25 cm) for 35-40 minutes at 165 degrees Celsius.
Cake Flour nutritional value table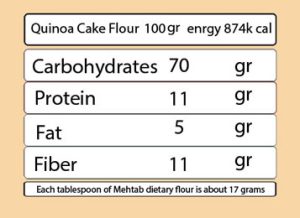 In addition to this product, we at Hayva store have offered products such as quinoa pancake powder (200 grams) and ready-to-cook white quinoa (250 grams package), which are similar to this product. You can also follow this page to buy quinoa.